Regardless of what pool contractor you decide to use for your pool, they will all install your vinyl liner pool walls in the same manner. Some will use different tricks or sequencing, but at the end of the day the walls will be put up the same.
How to Install Inground Pool Walls
Once the excavation is done for your pool, the pool contractor will start to layout the pool walls based on the layout, skimmers, lights and returns. They are placed around the overdig of the pool so they are easily accessible.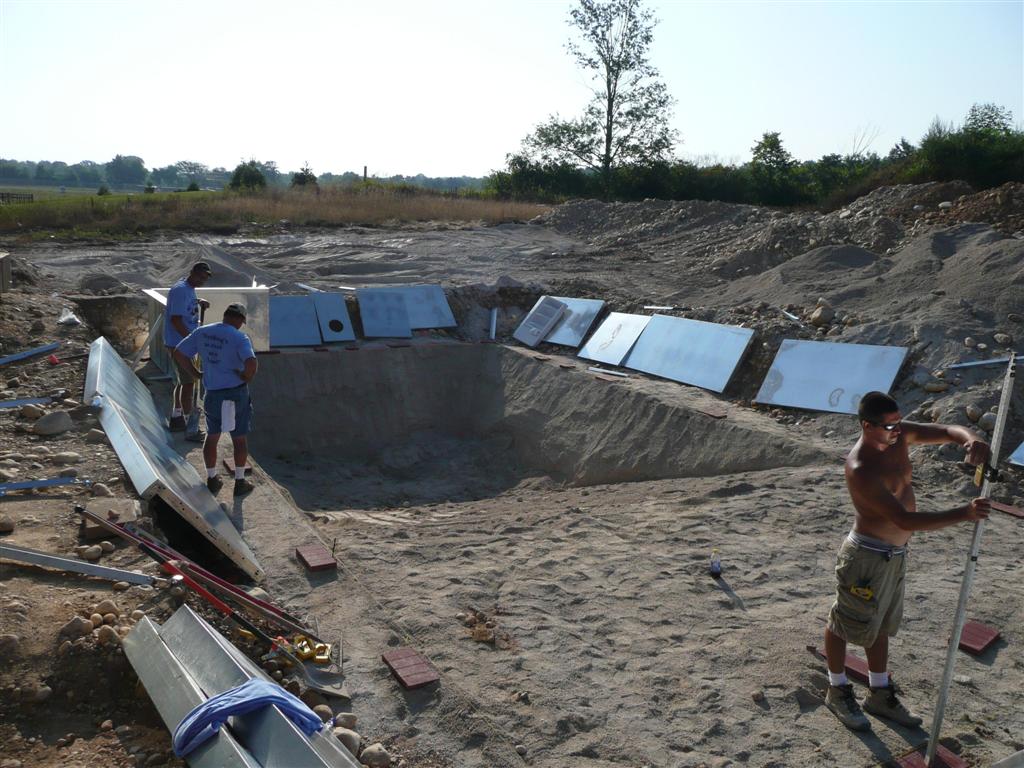 Prior to putting the pool walls together, many companies will stone the bottom of the pool and overdig for a better substrate. While some will build directly on clay, good pool builders will add a layer of stone. At this point you are ready to some pool walls.
Many companies will set patio blocks to the correct elevation at the seam of each pool wall location. That way when the pool wall sits on the patio block, they know it is level and at the correct elevation.
Other companies will just put the pool walls together and then use shims under the walls to get the elevation correct.
Having done both ways toinstall pools walls, using the patio block method is much easier and quicker.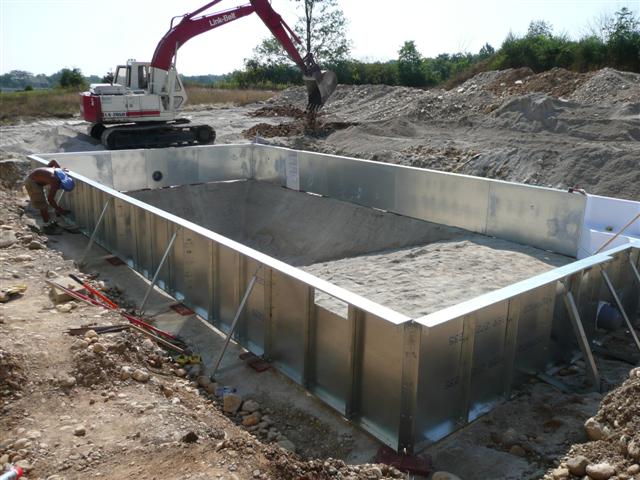 The walls are put together by steel bolts if you are doing a steel walled pool and plastic bolts if you are getting a polymer pool. Panels are generally pre-cut for your lights, skimmers, and returns; however many pool contractors will cut them on-site.
Once the walls are up, the braces that hold the walls in position are put on and staked into the ground. If you are building a vinyl liner pool on rock, the pool might need to be reinforced with additional rebar around the pool.
Now that you pool is up, you are ready to pour the concrete collar around your pool. Many pool contractors will call this the pool footing.
Pool Contractor Time-Lapse Video of Wall Installation
For this project, there was limited access to the client's backyard so the concrete had to shuttled around the pool. Normally the concrete truck would go right next to the inground pool. Once the pool walls are up the concrete collar was put down to secure it in place for years to come.